Introducing the Carestream 8100 3D imaging system, offers the highest image quality for difficult to diagnose root canal issues.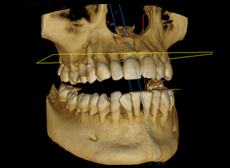 Safer Examinations
The CS 8100 3D uses dental 3D technology to limit radiation dose and ensure safer exams.
•
Confine radiation to area of interest with flexible fields of view
•
Control size, resolution, and dose for each exam
•
Adherence to the ALARA Principle helps you keep radiation exposure as low as reasonably achievable
•
Dental 3D technology reduces exposure significantly more than conventional CT systems
Precision from All Angles
The CS 8100 3D is designed for accuracy, with a vibration-free motion system working together to ensure smooth image capture.
•
Delivers sharp, contrasted images with resolution up to 75 μm
•
3D images offer more accurate views of patients' dental anatomies
•
View the area of interest from every angle, with one-to-one accuracy
Convenient for Everyone
Whether you are the user or the patient, the CS 8100 3D makes image acquisition quick and simple.
•
Open, face-to-face design puts patients at ease and promotes comfort
•
Fast scanning times prevent movement and reduce retakes
•
Accessible to patients of all sizes and individuals in wheelchairs